Wound Cleansing with Pulsed Irrigation: Clinical Best Practices
What is pulsed irrigation?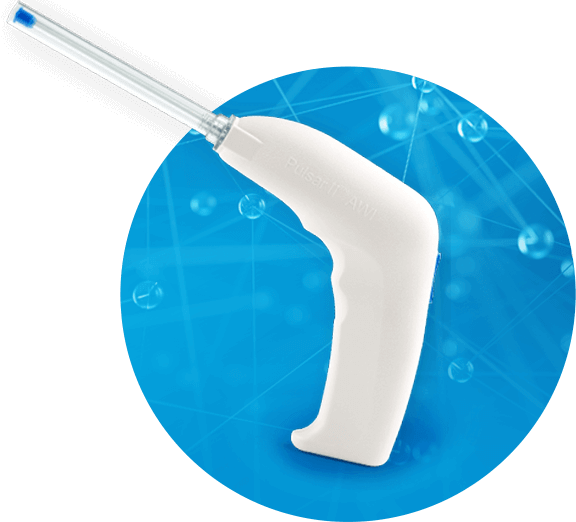 The need for effective wound cleansing is necessary to remove impediments to wound healing such as dirt, debris and excessive bioburden. These impediments are often held firmly to the wound's surface by capillary, molecular or electrostatic forces. In order to effectively remove this dirt, debris and bioburden without damage to underlying tissues, or pain, a form of cleansing known as pulsed irrigation may be selected. Initially used by surgeons in the operating room for traumatic and infected wounds, it was adopted for use in other care settings to provide wound irrigation and hydro-mechanical debridement to cleanse and enhance healing of soft tissue wounds.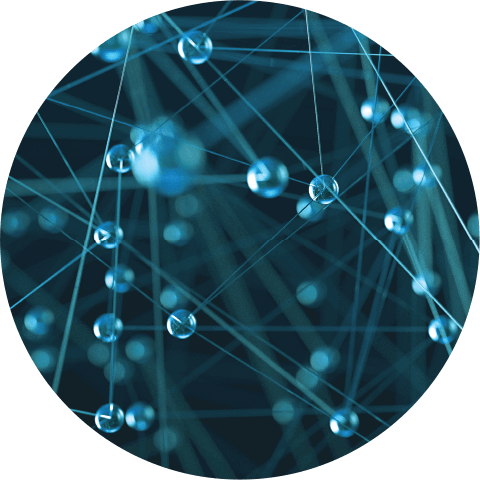 How often should pulsed irrigation be used?
Treatment frequency is dependent on the needs of the patient and the wound. When applied outside the operating room, it is often performed as a component of wound care by a qualified professional such as a physician, physical therapist, nurse practitioner or wound specialist.
What is the pressure range of pulsed irrigation?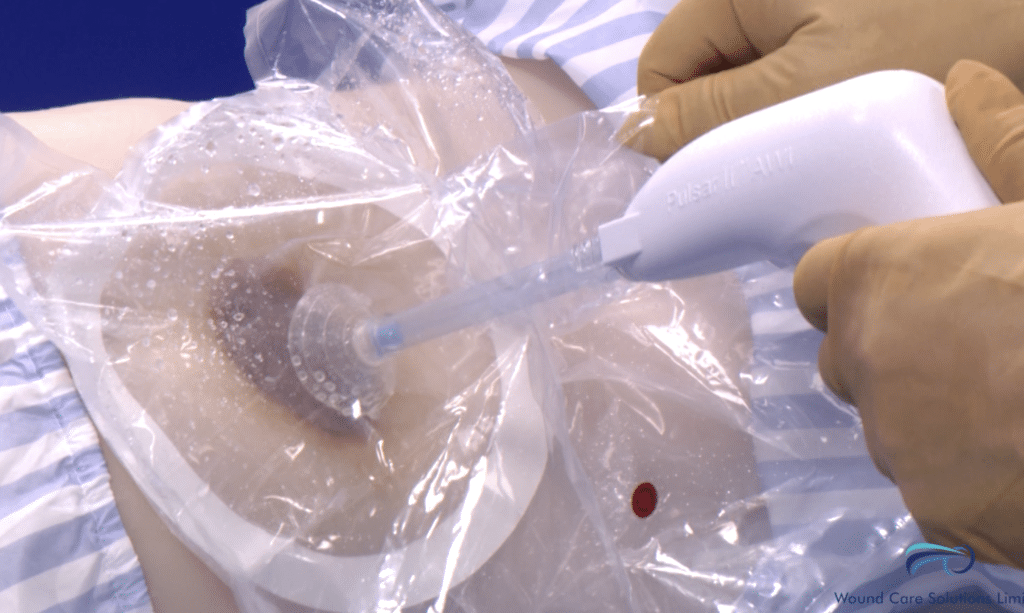 Pulsed irrigation provides an irrigating solution under a controlled pressures ranging from 4 to 15 pound per square inch (psi) which is sufficient to remove surface pathogens and debris without causing trauma to the wound bed. Pressures less than 4 psi are insufficient to remove surface pathogens and above 15 psi may cause wound trauma or drive bacteria into the tissues.  The pulsed irrigation device delivers an adjustable and controlled delivery of psi within the recommended pressure range using a hand-held battery-operated hand-piece. 
What solutions can be used during pulsed irrigation?
The solution utilized during pulsed irrigation may include the use of a non-cytotoxic antimicrobial cleanser. The provider will determine the most appropriate solution to use. The irrigation solution amount and temperature is also determined by the provider to deliver the appropriate amount needed for the goal of treatment and at a temperature that supports both comfort and an appropriate wound healing environment.
What is the benefit of intermittent pressure?
The intermittent pressure from the pulsation of the fluid is also important as it applies mechanical forces to the tissues which stimulates blood flow. The pulsation of the fluid supports new blood vessel development and stimulation of granulation tissue formation. Reduced inflammation has also been reported following pulsed irrigation.
What treatments can be performed in conjunction with pulsed irrigation?
Pulsed irrigation may be performed in conjunction with suction or an enclosed environment to assist in the removal or containment of debris and irrigation solution. It is an effective method of cleaning both acute and chronic wounds. The containment of fluid and debris, relatively low cost, and disposable components allow pulsed irrigation to be performed in a variety of care settings across the continuum.
To learn about a pulsed irrigation system appropriate for patients in a variety of care settings, please visit https://sanaramedtech.com/wound-care/pulsar-awi/
References:
Bastawros, David S. DPM, FACFAOM, CWS 5 Things You Need to Know About: Pulsed Lavage, Advances in Skin & Wound Care: November 2003 – Volume 16, Issue 6 – 282
Luedtke-Hoffmann, Kathleen A, Schafer D Sue, Pulsed Lavage in Wound Cleansing, Physical Therapy, 1 March 2000, Volume 80, Issue 3, 292–300
Important Notice: The contents of the website such as text, graphics, images, and other materials contained on the website ("Content") are for informational purposes only. The Content is not intended to be a substitute for professional medical advice, diagnosis, or treatment. The content is not intended to substitute manufacturer instructions. Always seek the advice of your physician or other qualified health provider with any questions you may have regarding a medical condition or product usage. Please refer to our Terms of Use.