Exploring the Safety and Efficacy of PHMB as an Antimicrobial Irrigation Option in Surgery
What is the role of antimicrobial irrigation in surgery?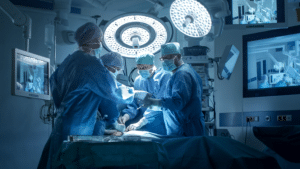 Antimicrobial irrigation is a method commonly used during surgery with a goal of removing foreign particles, tissue debris, and microorganisms from the surgical field, thus reducing the risk of infections and supporting postoperative healing. Besides saline, antiseptics such as chlorhexidine gluconate, povidone iodine, hydrogen peroxide, and ethanol are most frequently used as part of the irrigation regimen. Given the wide array of both safety and antimicrobial efficacy profiles of antiseptics, it is crucial to evaluate alternative options with comparable or improved properties.
This article aims to provide a scientific perspective on the use of polyhexamethylene biguanide (PHMB) as a promising antimicrobial irrigation agent in surgical settings.
What is PHMB?
Polyhexamethylene biguanide (PHMB) is a cationic polymeric biguanide, a well-established antiseptic known for its rapid and broad-spectrum antimicrobial properties against bacteria, fungi, and viruses. In recent years, PHMB has garnered attention as potential antiseptic of choice in surgical procedures.
Here's how PHMB compares to other common antiseptics: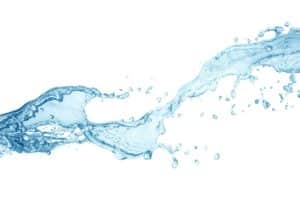 Safety Profile: PHMB exhibits a favorable safety profile, in particular when when compared to other commonly used antimicrobial and antiseptic agents.1,2 This is a direct consequence of the favorable mechanism of action preferably targeting microbial cells versus mammalian cells. Studies have reported low systemic toxicity, limited local irritation, and minimal adverse effects on human tissue with PHMB usage. In contrast, irrigation solutions containing chlorhexidine gluconate or povidone iodine have been associated with a higher incidence of adverse effects, including allergic reactions, tissue damage, and impaired healing. 3-8
Antiseptic Efficacy: PHMB has demonstrated excellent efficacy as an antimicrobial agent in various studies. Its broad-spectrum activity encompasses both gram-positive and gram-negative bacteria, as well as yeasts and viruses. This includes vegetative pathogens and those with antibiotic resistance, like methicillin-resistant Staphylococcus aureus (MRSA) and vancomycin-resistant enterococci (VRE). Unlike most of the other antiseptics and antimicrobials, antimicrobial efficacy of PHMB is not affected by the presence of organic bioburden and its efficacy increases with a rise in pH, which can be advantageous for management of infections.9-16
Rapid and Prolonged Antimicrobial Activity: PHMB has a unique combination of both rapid and prolonged efficacy, related to its mechanism of action. On one hand, PHMB rapidly kills pathogenic microorganisms, on the other hand, effectiveness of PHMB a variety of environments (high organic load, high pH), allows it to exert its efficacy over extended periods of time. This characteristic has the potential to reduce the risk of microbial colonization and subsequent infections, especially in surgical procedures where prolonged exposure to the environment increases potential for microbial contamination. Other antiseptics do not share these properties.17,18
Reduced Resistance Development: Although PHMB has been in use for more than 60 years, thus far there have been no reports of acquired resistance development. This can be attributed to its complex mechanism of action which makes development of resistance almost unimaginable. This is especially important given the rapid rise of antimicrobial resistance world-wide and generation of multi-drug resistant pathogens, superbugs. This phenomenon is not true for all antiseptics, for example, resistance to chlorhexidine gluconate has been reported.19,20
PHMB and Intraoperative Antimicrobial Irrigation
Polyhexamethylene biguanide (PHMB) presents itself as a compelling alternative for antimicrobial irrigation in surgical procedures. Its favorable safety profile, broad-spectrum efficacy against various pathogens, prolonged antimicrobial activity, and reduced resistance development make it a promising option. However, it is important to consider individual patient and procedural factors when selecting an antimicrobial agent. Further research and clinical trials will contribute to a more comprehensive understanding of PHMB's role in surgical antimicrobial irrigation and its potential benefits for patient outcomes.
References:
Müller G, Kramer A. Biocompatibility index of antiseptic agents by parallel assessment of antimicrobial activity and cellular cytotoxicity. J Antimicrob Chemother 2008; 61(6):1281–1287. https://doi.org/10.1093/jac/dkn125
Kramer A, Eberlein T, Müller G, Dissemond J, Assadian O. Re-evaluation of polihexanide use in wound antisepsis in order to clarify ambiguities of two animal studies. J Wound Care. 2019; 28(4): 246-255. doi: 10.12968/jowc.2019.28.4.246. PMID: 30975054.
Lachapelle JM. A comparison of the irritant and allergenic properties of antiseptics. European Journal of Dermatology. 2014; 24: 3-9.
Bubenhofer M, Fricker M, Weber-Mani U, Helbling A. Chlorhexidine: a retrospective observational study of a potentially life-threatening molecule. Journal of investigational allergology & clinical immunology. 2015; 25(2): 152-4.
Fernandes M, Lourenço T, Lopes A, Spínola Santos A, Pereira Santos MC, Pereira Barbosa M. Chlorhexidine: a hidden life-threatening allergen. Asia Pac Allergy. 2019; 9(4): e29. doi: 10.5415/apallergy.2019.9.e29.
Cheong JZA, Liu A, Rust CJ, Tran CL, Hassan SE, Kalan LR, Gibson ALF. Robbing Peter to Pay Paul: Chlorhexidine gluconate demonstrates short-term efficacy and long-term cytotoxicity. Wound Repair Regen. 2022 Sep;30(5):573-584. doi: 10.1111/wrr.13044. Epub 2022 Aug 11. PMID: 36638156; PMCID: PMC9542784.
Woo KY. Management of non-healable or maintenance wounds with topical povidone iodine. Int Wound J. 2014; 11(6): 622-6. doi: 10.1111/iwj.12017.
Goldenheim PD. An appraisal of povidone-iodine and wound healing. Postgrad Med J. 1993;69 Suppl 3:S97-105. PMID: 8290466.
Moore K, Gray D. Using PHMB antimicrobial to prevent wound infection. Wounds 2007;3(2):96–102.
Assadian O, Wehse K, Hübner NO, et al. Minimum inhibitory (MIC) and minimum microbicidal concentration (MMC) of polihexanide and triclosan against antibiotic sensitive and resistant Staphylococcus aureus and Escherichia coli strains. GMS Krankenhaushyg Interdiszip. 2011; 6(1):Doc 06.
Wiegand C, Abel M, Ruth P, Elsner P, Hipler UC. pH influence on antibacterial efficacy of common antiseptic substances. Skin Pharmacol Physiol 2015; 28(3): 147–158. https://doi.org/10.1159/000367632
Kamaruzzaman NF, Firdessa R, Good L, Bactericidal effects of polyhexamethylene biguanide against intracellular Staphylococcus aureus EMRSA-15 and USA 300, Journal of Antimicrobial Chemotherapy, 2016; 71(5): 1252–1259. https://doi.org/10.1093/jac/dkv474
Schedler K, Assadian O, Brautferger U, Müller G, Koburger T, Classen S, Kramer A. Proposed phase 2/ step 2 in-vitro test on basis of EN 14561 for standardised testing of the wound antiseptics PVP-iodine, chlorhexidine digluconate, polihexanide and octenidine dihydrochloride. BMC Infect Dis. 2017; 17(1): 143. doi: 10.1186/s12879-017-2220-4.
Kramer A, Dissemond J, Kim S et al. Consensus on wound antisepsis: Update 2018. Skin Pharmacol Physiol 2018; 31(1):28–58. https://doi. org/10.1159/000481545
McMahon RE, Salamone AB, Poleon S, Bionda N, Salamone JC. Efficacy of Wound Cleansers on Wound-Specific Organisms Using In Vitro and Ex Vivo Biofilm Models. Wound Manag Prev. 2020; 66(11): 31-42. PMID: 33206627.
Rippon MG, Rogers AA, Ousey K. Polyhexamethylene biguanide and its antimicrobial role in wound healing: a narrative review. J Wound Care. 2023 Jan 2;32(1):5-20. doi: 10.12968/jowc.2023.32.1.5. PMID: 36630111.
Norman G, Atkinson RA, Smith TA, Rowlands C, Rithalia AD, Crosbie EJ, Dumville JC. Intracavity lavage and wound irrigation for prevention of surgical site infection. Cochrane Database Syst Rev. 2017; 10(10):CD012234. doi: 10.1002/14651858.CD012234.pub2.
Wiegand C, Abel M, Ruth P, Elsner P, Hipler UC. pH influence on antibacterial efficacy of common antiseptic substances. Skin Pharmacol Physiol 2015; 28(3): 147–158. https://doi.org/10.1159/000367632
Kampf, G. Acquired resistance to chlorhexidine – is it time to establish an 'antiseptic stewardship' initiative? Journal of Hospital Infection, 2016; 94(3): 213-227.
Cieplik F, Jakubovics NS, Buchalla W, Maisch T, Hellwig E, Al-Ahmad A. Resistance Toward Chlorhexidine in Oral Bacteria – Is There Cause for Concern? Front Microbiol. 2019 Mar 22;10:587. doi: 10.3389/fmicb.2019.00587. PMID: 30967854; PMCID: PMC6439480.